BCI's Enterprise Solutions provide the convenience of having a single source technology partner for the configuration, procurement, implementation, management and maintenance of your IT and networking solutions. BCI provides superior network management solutions utilizing hardware from industry-leading manufacturers offering a variety of value-added services and world-class support models.
We can provide whatever your needs and legacy system requires, including switching, routing, IPsec and SSL VPN, firewall, bandwidth management, encryption, authentication, and data integrity for secure connectivity across managed IP networks and the Internet.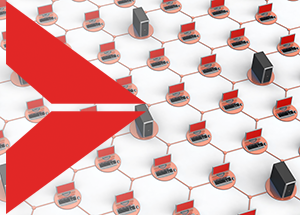 Whether you need to connect remote users, branch offices, suppliers, or customers, BCI can provide the equipment, maintenance, integration, support and management services.
BCI is your one-stop equipment and services provider and can deliver solutions from very simple requirements to complex, multi-vendor type environments. When you buy Enterprise equipment and solutions from BCI you are also purchasing BCI's superior service. – We have and provide the highest level of customer service available, confirmed by our many longtime customers.
Overview:
BCI provides the best equipment and services available and specific to your needs, including: routing, switching, security, SSL, VPN, firewall, bandwidth management, encryption, authentication, data integrity and secure connectivity across managed IP networks and the Internet.
Connect remote users, branch offices, suppliers, and customers with the cost and performance advantages of public IP networks and the security and control found in private networks.
BCI provides hardware, maintenance, integration and management services that are specific and best suited to your needs.
Contact your BCI Account Manager, or email us to request a quote and learn more about Enterprise Solutions and how BCI can provide the hardware and services you want and need.
Benefits:
BCI can deliver all your data customer IT hardware and services needs
BCI has provided superior IT hardware and services for over 30 years
Proven experience providing well planned and scalable solutions allowing you to add or upgrade equipment as needs change
Connectivity and collaboration solutions for all your staff (including remote workers) seamlessly connecting them to the same network, data and applications
Convergence solutions connecting core network functions such as routing, switching, security and Internet services
Enjoy secure connectivity on a converged network offering real-time applications
Easily and effectively adapt to current and future business needs with a fully integrated network
Enable anytime, anywhere, secure communications
Get in touch with your BCI Account Manager or email us to request a quote and learn more about data customer IT equipment solutions and how BCI can provide you the hardware and services you need.
Industry-Leading IT Hardware and Dedicated Support:
All of the BCI IT Equipment Solutions are tested and certified by BCI's engineering team, ensuring reliability.
Value-Added IT Equipment Services Include:
Dedicated Pre-Sales & Post-Sales Engineering: Edge applications and solutions to meet your specific business needs.
Installation:  BCI's certified engineers and technicians install and test all equipment to ensure it operates effectively within your network infrastructure
Maintenance:  BCI's superior equipment maintenance can help ensure you avoid any additional time or labor costs

Remote Maintenance:  Services include software upgrades, one-hour callback on hardware and software issues, advanced engineering escalation and a variety of hardware replacement options
On-site Maintenance:  Services include remote maintenance, plus on-site technical coverage options and hardware replacement options
Management:  BCI provides 24x7x365 monitoring services
Moves/Adds & Changes (MACs):  BCI performs MACs for existing and non-BCI customer IT hardware
Choose BCI with Confidence
BCI's strategic alliances with key manufacturers and technology partners, combined with BCI's expert solutions and dedicated support make BCI IT Equipment Solutions the right choice for the best solutions to your networking challenges.
How To Get Started
For more information or a quotation, please contact us by calling our toll free number or sending an e-mail to the below sales address.  If you already have a BCI account executive, you may contact them directly.
Phone: 601-427-4185